We offer great discounts to clients that have great accounting systems. Therefore we recommend that all of our clients, no matter how small, should maintain their accounting records using a proprietary accounting system.
Many different systems are available on the market, but as a firm we specialise in Xero.
Every business should consider switching from cashbooks and spreadsheets to a proprietary system. Although it might seem daunting for non-accountants, seeking appropriate training and guidance can help to ensure the transition is as smooth as possible.
So we offer bespoke training sessions, either in the comfort of your own office or in our office, away from any distractions. We will train up to 4 delegates, depending on the number that need to know how to use Xero. Wherever possible we will use your own business records, so the data you use for training is real rather than meaningless examples from a textbook.
After you've completed your training, we also include 6 months of follow-up support by telephone or email. If any more training is needed – or you simply want us to review your work, to ensure it's been done correctly – we can provide further training.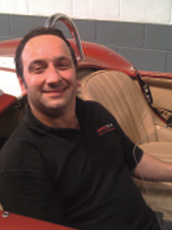 "Training from Anthony Russel has tuned up my business."
For further advice on Xero Training and how Anthony Russel may be able to assist, please call Tony or Wayne on 01376 550295 or via our contact form.
CONTACT US TODAY